There are many interesting articles about Systema and its various branches on the Internet, such as this one on Wikipedia. This page is about what I was able to relate to in Systema and how it is different from any other combat systems that I experienced.
I was born and raised in Kiev, Ukraine and studied math at a local university. Martial arts became a hobby in school after my father brought "Vital Karate" by Masutatsu Oyama as a present from his trip to Japan. Later I learned that he had been training in hand-to-hand combat for years with instructors for police special forces. That's how I met some outstanding folks in the field - Alexander Gartvich, General Director of the Ukraininan National Association for Hand-to-Hand Combat and Victor Vargotsky, a champion kickboxer presently residing in Quebec, Canada.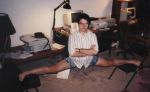 Both instilled appreciation and love for martial arts in many students and I am proud of their acquaintance to this day.
Several years later, I traveled to Minnesota, USA to complete my academics and studied Taekwondo and boxing along the way. Eventually, I decided to stay in North America and settled in Toronto, Canada.
Despite all the background in martial arts, it was my wife who learned about Systema and suggested that I should try it. To this day, I am much greatful for her persistence.